A blend to assist in winding down the body and mind.

Ingredients: Chamomile, passionflower, skullcap, liquorice.
100% organic.
This carefully curated combination of passionflower, chamomile, skullcap & liquorice work together to calm an overactive mind, soothe the nervous system and support the adrenal glands, easing you into a restful night's sleep.
Herbal actions: Chamomile (Matricaria chamomilla): Calming, mild sedative.
Passionflower (Passiflora incarnata): Anti-anxiety, relaxant, sedative, hypnotic.
Skullcap (Scutellaria lateriflora): Sedative, relaxant, nerve tonic.
Liquorice (Glycyrrhiza glabra): Adrenal support.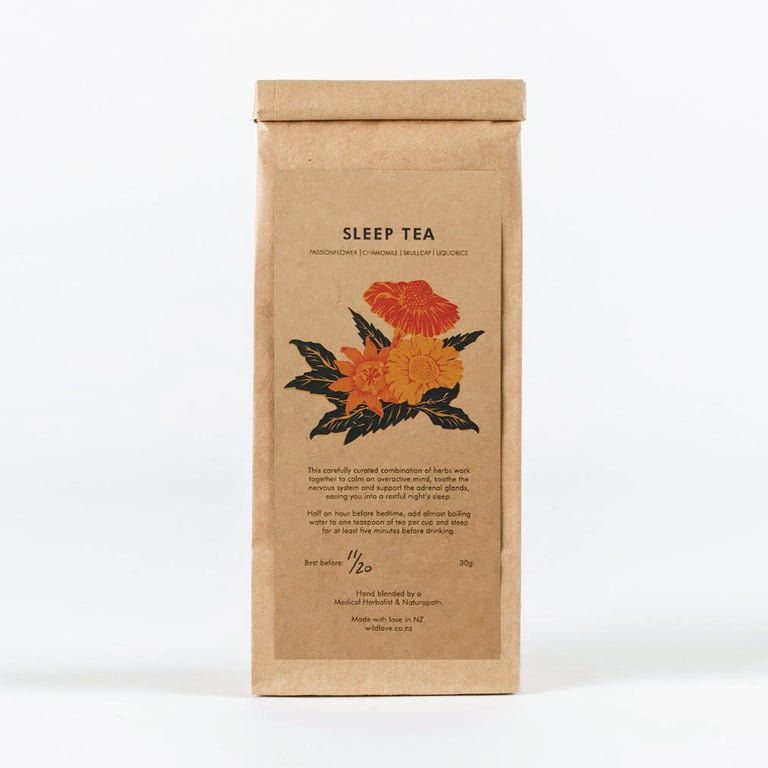 Wild Love offers a range of healing skincare and herbal teas that connect the magic of plant medicine with everyday rituals of wellbeing.
Created in New Zealand by Naturopath and Medical Herbalist Louise Garland, Wild Love believes that if people connect with plants, they will want to protect them. Each Wild Love product is used as a gentle tool to share knowledge on herbal medicine and the way it can impact our lives.
Made by hand, with love in NZ, by naturopath and medical herbalist, Louise Garland.